Kristin Caforio Marengo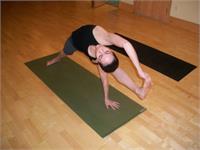 Kristin Caforio Marengo is a native of Worcester, Massachusetts. Upon graduating high school in 1998 she left Massachusetts and pursued a career in dance. Landing her first job as Grover in Sesame Street Live in 1999. After a series of dance tours, and cruise line contracts she landed in NYC. After a back injury in 2002, she found Yoga. In dance she was always competing, dancing through injuries and neglecting her body. Yoga changed all of that and through yoga she learned proper alignment. No longer competing and forcing she began listening to her body and healing her body. Quickly her injuries healed.
Yoga started off primarily physical, but quickly yoga became a mental practice as well. Kristin started noticing that she was more calm throughout the day. Things that would have got her down previously were no longer affecting her. Yoga was changing her life in a positive way.
In 2003, Kristin received her 200 hour certification in NYC. Yoga Alliance (RYT). She then began her teaching career, teaching throughout NYC. In 2007 Kristin became the general manager of Prana Power Yoga in NYC. In 2009 she became the head teacher of the Teacher Training Program.
In 2010 Kristin's class was rated as one of the top 10 yoga classes in NYC, by Time Out Magazine. (December 2010) issue.
Kristin led NYU's physical therapy yoga program.
November 2014 Kristin was featured in Cosmopolitan Magazine
In 2014 Kristin was featured as a yogi in the motion picture "Creative Control"
Kristin decided it was time to move back to Worcester Massachusetts in November 2014, and decided to open Hot Power Yoga Center. Kristin's dharma or life purpose is to spread the healing powers of yoga to all her students and is overjoyed to have her own studio. Hot Power Yoga Center is a safe atmosphere where students can explore their physical and mental selves through breath and movement. There are no mirrors at Hot Power Yoga Center, because through Yoga we let our egos go and listen to our bodies without competing or judging. Finding enlightenment. Hot Power Yoga Center is a simple place to escape from every day stresses, and let the body and mind unite and relax.
Kristin wants to thank her husband Joseph and son Josiah for their unconditional love and support. Kristin also wants to thank her mother, father, and sister Jessica for helping her every step of the way.
There is no end to a yoga journey, just a beginning.
Kristin Caforio Marengo instructs the following:
The word Vinyasa means "linking breath to movement." Vinyasa yoga classes are creative and teachers take students on a journey where the poses are found through breath. Vinyasa yoga is sometimes referred to as flow yoga since students flow from pose to pose in this style of class. In this vigorous flow students will be led through Sun Salutations, side bends, heart openers, backbends, hip openers, inversions, arm balances, standing poses, forward folds, core, twists and a floor sequence. These classes are for all levels.




This class is done in candle light. Same as the regular hot power vinyasa class, only we add candle light to help relax the muscles and calm the mind.




This class was developed and created by Kristin Caforio-Marengo. She merged her two loves of oils and yoga and created this class. In this all levels heated vinyasa flow class, we diffuse 100% pure therapeutic grade essential oils throughout the practice. The oils will change every class, to help students learn about the benefits of Young Living essential oils. Also, during Savasana (corpse pose) students will receive an essential oil infused mist with the featured oil of the day!

Essential Oil aromas stimulate the part of the brain that affects emotion. The shape of an essential oil molecule is like a key that opens lock-like structure in the olfactory nerve receptors in our nostrils. The impression of the aroma is sent directly and immediately to the limbic system where memories are stored and pleasure and emotions are perceived. When stimulated, the limbic system releases chemicals that affect the central nervous system. Serotonin counteracts anxiety, and endorphins reduce pain.