Erin Boudreau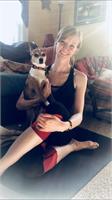 Erin was a dancer all through grade school and high school. Dancing was a part of her; it was a way for her to express herself and release any tensions and stress from the day. After high school, she found few opportunities to dance, so she took up running to satisfy her need to stay active. Running never filled the void left behind when she stopped dancing, and over the years her body started to feel the negative effects of running. At age 29, she found herself with pain in both knees, and she slept with a heating pad on her back every night. One day she thought, "enough is enough," and after 11 years of running (which included 3 half marathons and one full marathon), she hung up her sneakers and found her way to her yoga mat at Hot Power Yoga Center. To be cliché: the rest is history.
Erin fell in love with hot vinyasa yoga immediately. She felt like she was dancing again, flowing to the music and her breath; she felt at home on her mat almost instantly, and her heart was full again. Yoga has not only healed her physical pains but has also helped her work through some of her emotional and mental struggles she was facing as well. She has connected with the earth, the universe, and nature in a way she never had before. Yoga changed her life, and she also gained an amazing yoga family at her home away from home.
As recent graduate of the HPYC 200 hour Teacher Training, she is so excited to share her love and passion of yoga with the community.
When off the mat, Erin loves spending time with her beautiful dogs, Gracie and Journey, and crazy cats, Rosie and Baby. She loves cooking vegan food, experimenting with new recipes, and traveling any distance to find a good vegan bakery.
Erin Boudreau instructs the following:
The word Vinyasa means "linking breath to movement." Vinyasa yoga classes are creative and teachers take students on a journey where the poses are found through breath. Vinyasa yoga is sometimes referred to as flow yoga since students flow from pose to pose in this style of class. In this vigorous flow students will be led through Sun Salutations, side bends, heart openers, backbends, hip openers, inversions, arm balances, standing poses, forward folds, core, twists and a floor sequence. These classes are for all levels.




This class was developed and created by Kristin Caforio-Marengo. She merged her two loves of oils and yoga and created this class. In this all levels heated vinyasa flow class, we diffuse 100% pure therapeutic grade essential oils throughout the practice. The oils will change every class, to help students learn about the benefits of Young Living essential oils. Also, during Savasana (corpse pose) students will receive an essential oil infused mist with the featured oil of the day!

Essential Oil aromas stimulate the part of the brain that affects emotion. The shape of an essential oil molecule is like a key that opens lock-like structure in the olfactory nerve receptors in our nostrils. The impression of the aroma is sent directly and immediately to the limbic system where memories are stored and pleasure and emotions are perceived. When stimulated, the limbic system releases chemicals that affect the central nervous system. Serotonin counteracts anxiety, and endorphins reduce pain.