Doreen Defazio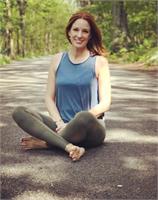 Doreen DeFazio, a Massachusetts native, grew up a competitive swimmer starting at the age of eight. Spending hours in the pool each week perfecting breath work, flow, and form was an integral part of her youth. Once she discovered yoga in her adult life, the familiar meditative breath became a continuous practice and passion.
Doreen's mat has been a place she can roll out anywhere as a sanctuary; a space that she refers to as a "judgment free zone". Since deepening her practice, yoga has become less about the need to hold the perfect pose and more for whatever is needed that day: self-reflection, the practice of kindness and self-compassion, and continued growth and self-awareness.
Doreen's passion for yoga is contagious, and she hopes that in a culture where we are all rushing from one moment to the next, that she can assist students in connecting with what is – who they already are - and to find those moments of bliss and playfulness in the flow towards their own self-discovery and self-love.
Doreen graduated Hot Power Yoga Center's Teacher Training program.
Doreen Defazio instructs the following:
This class is done in candle light. Same as the regular hot power vinyasa class, only we add candle light to help relax the muscles and calm the mind.




The word Vinyasa means "linking breath to movement." Vinyasa yoga classes are creative and teachers take students on a journey where the poses are found through breath. Vinyasa yoga is sometimes referred to as flow yoga since students flow from pose to pose in this style of class. In this vigorous flow students will be led through Sun Salutations, side bends, heart openers, backbends, hip openers, inversions, arm balances, standing poses, forward folds, core, twists and a floor sequence. These classes are for all levels.




This class was developed and created by Kristin Caforio-Marengo. She merged her two loves of oils and yoga and created this class. In this all levels heated vinyasa flow class, we diffuse 100% pure therapeutic grade essential oils throughout the practice. The oils will change every class, to help students learn about the benefits of Young Living essential oils. Also, during Savasana (corpse pose) students will receive an essential oil infused mist with the featured oil of the day!

Essential Oil aromas stimulate the part of the brain that affects emotion. The shape of an essential oil molecule is like a key that opens lock-like structure in the olfactory nerve receptors in our nostrils. The impression of the aroma is sent directly and immediately to the limbic system where memories are stored and pleasure and emotions are perceived. When stimulated, the limbic system releases chemicals that affect the central nervous system. Serotonin counteracts anxiety, and endorphins reduce pain.