Mandy Schwartz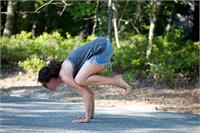 What I love about yoga is that it works. It's simple: show up to your mat and breathe, and you will feel better. I fell in love with yoga right away, and looking back I can see how quickly my life began to shift – big shifts for the world to see and internal shifts that really have been much bigger. My commitment to the practice led me to teacher training in 2009 and I have been teaching yoga full time ever since. I aspire to teach the kind of class that I love to take: balanced, challenging, fun, and fluid, with a whole lot of space to find your own way. Students can expect fresh sequences with a solid foundation of breath connection, mindful movement, and personalized flow. I enjoy teaching all levels of students and strive to deliver classes that feel simultaneously supportive and strong. I believe that your yoga practice provides a place to connect more fully to your own intuition. My classes will encourage you to listen to and trust what your body has to say. To honor exactly where you are, exactly what you need, moment to moment, breath to breath.
Mandy Schwartz instructs the following:
The word Vinyasa means "linking breath to movement." Vinyasa yoga classes are creative and teachers take students on a journey where the poses are found through breath. Vinyasa yoga is sometimes referred to as flow yoga since students flow from pose to pose in this style of class. In this vigorous flow students will be led through Sun Salutations, side bends, heart openers, backbends, hip openers, inversions, arm balances, standing poses, forward folds, core, twists and a floor sequence. These classes are for all levels.