Tatiana Gray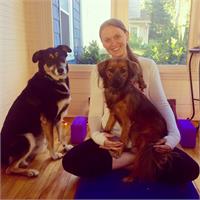 Tatiana Gray, a native of Colorado, began practicing yoga when her best friend invited her to try it out, and they both discovered that it was the best kept secret to feeling awesome as 12-year olds. Tatiana immediately fell in love with the practice of yoga, and its gift of gracefulness, like being immersed in water; it doesn't matter what shape or size you are - it's always a perfect fit, lovingly surrounding all your corners and edges, making you feel simultaneously light and strong. Tatiana has always seen yoga as a balance between the physical and spiritual and thinks of it as meditation in motion: a time to be fully present as we synchronize our movement, breath, and attention in each moment. Of all of the healing arts, Tatiana considers the practice of yoga one of the most direct, deep, and helpful. It is her hope that her students will discover a place of solace and refuge on their mats, find joy in the flow, and most importantly, learn to love themselves just as they are, in the midst of their chaotic lives.
Tatiana graduated Hot Power Yoga Center's Teacher Training program.
Tatiana Gray instructs the following:
The word Vinyasa means "linking breath to movement." Vinyasa yoga classes are creative and teachers take students on a journey where the poses are found through breath. Vinyasa yoga is sometimes referred to as flow yoga since students flow from pose to pose in this style of class. In this vigorous flow students will be led through Sun Salutations, side bends, heart openers, backbends, hip openers, inversions, arm balances, standing poses, forward folds, core, twists and a floor sequence. These classes are for all levels.




This class was developed and created by Kristin Caforio-Marengo. She merged her two loves of oils and yoga and created this class. In this all levels heated vinyasa flow class, we diffuse 100% pure therapeutic grade essential oils throughout the practice. The oils will change every class, to help students learn about the benefits of Young Living essential oils. Also, during Savasana (corpse pose) students will receive an essential oil infused mist with the featured oil of the day!

Essential Oil aromas stimulate the part of the brain that affects emotion. The shape of an essential oil molecule is like a key that opens lock-like structure in the olfactory nerve receptors in our nostrils. The impression of the aroma is sent directly and immediately to the limbic system where memories are stored and pleasure and emotions are perceived. When stimulated, the limbic system releases chemicals that affect the central nervous system. Serotonin counteracts anxiety, and endorphins reduce pain.




This class is done in candle light. Same as the regular hot power vinyasa class, only we add candle light to help relax the muscles and calm the mind.