Brittany Ford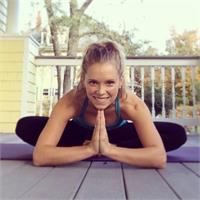 Massachusetts native, Brittany Ford has been practicing yoga since she graduated from college where she played Field Hockey. After graduating college she decided to run the Boston Marathon and began her training process. During her training, Brit started to weave yoga into her life as a form of cross training to help with flexibility, core strength, and balance. Yoga greatly helped her running form and endurance.
Brit received her first certification at Inner Strength Studios in Watertown, MA. After graduating, she moved to New York City where even among the noise she spent two years exploring the intricate studies of yoga and spirituality, and the intimate connection of mind and body.
While in New York, Brittany earned a Holistic Health Coaching certification from the Institute for Integrative Nutrition. She offers individual health coaching, a structured individualized six month program, and also several workshops and cleanses. She encourages the exploration of the body through diet and believes that no one diet works for every person.
After moving back to Massachusetts in July 2013, she started teaching at local yoga studios. Brit received her 500RYT certificate in August of 2014. Brittany works in therapeutics, pranayama, and connecting to the elements and chakras through her yoga practice. Her Vinyasa Flow integrates alignment, core, and breathing techniques with basic poses and creative sequences. Brittany encourages her students to be playful and bold in her classes, and to live fearlessly on and off the mat. To do one thing a day that scares you.
Visit Brit's website at britfordyoga.com and find daily inspiration from Brittany on Instagram as @yoga_birdie
Brittany Ford instructs the following:
The word Vinyasa means "linking breath to movement." Vinyasa yoga classes are creative and teachers take students on a journey where the poses are found through breath. Vinyasa yoga is sometimes referred to as flow yoga since students flow from pose to pose in this style of class. In this vigorous flow students will be led through Sun Salutations, side bends, heart openers, backbends, hip openers, inversions, arm balances, standing poses, forward folds, core, twists and a floor sequence. These classes are for all levels.




This class was developed and created by Kristin Caforio-Marengo. She merged her two loves of oils and yoga and created this class. In this all levels heated vinyasa flow class, we diffuse 100% pure therapeutic grade essential oils throughout the practice. The oils will change every class, to help students learn about the benefits of Young Living essential oils. Also, during Savasana (corpse pose) students will receive an essential oil infused mist with the featured oil of the day!

Essential Oil aromas stimulate the part of the brain that affects emotion. The shape of an essential oil molecule is like a key that opens lock-like structure in the olfactory nerve receptors in our nostrils. The impression of the aroma is sent directly and immediately to the limbic system where memories are stored and pleasure and emotions are perceived. When stimulated, the limbic system releases chemicals that affect the central nervous system. Serotonin counteracts anxiety, and endorphins reduce pain.