Hot Vinyasa Flow, Donation Class
This class is taught by: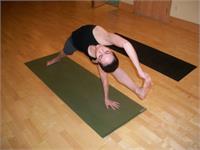 Kristin Caforio Marengo is a native of Worcester, Massachusetts. Upon graduating high school in 1998 she left Massachusetts and pursued a career in dance. Landing her first job as Grover in Sesame Street Live in 1999. After a series of dance tours, and cruise line contracts she landed in NYC. After a back injury in 2002, she found Yoga. In dance she was always competing, dancing through injuries and neglecting her body. Yoga changed all of that and through yoga she learned proper alignment. No longer competing and forcing she began listening to her body and healing her body. Quickly her injuries healed.
Yoga started off primarily physical, but quickly yoga became a mental practice as well. Kristin started noticing that she was more calm throughout the day. Things that would have got her down previously were no longer affecting her. Yoga was changing her life in a positive way.
In 2003, Kristin received her 200 hour certification in NYC. Yoga Alliance (RYT). She then began her teaching career, teaching throughout NYC. In 2007 Kristin became the general manager of Prana Power Yoga in NYC. In 2009 she became the head teacher of the Teacher Training Program.
In 2010 Kristin's class was rated as one of the top 10 yoga classes in NYC, by Time Out Magazine. (December 2010) issue.
Kristin led NYU's physical therapy yoga program.
November 2014 Kristin was featured in Cosmopolitan Magazine
In 2014 Kristin was featured as a yogi in the motion picture "Creative Control"
Kristin decided it was time to move back to Worcester Massachusetts in November 2014, and decided to open Hot Power Yoga Center. Kristin's dharma or life purpose is to spread the healing powers of yoga to all her students and is overjoyed to have her own studio. Hot Power Yoga Center is a safe atmosphere where students can explore their physical and mental selves through breath and movement. There are no mirrors at Hot Power Yoga Center, because through Yoga we let our egos go and listen to our bodies without competing or judging. Finding enlightenment. Hot Power Yoga Center is a simple place to escape from every day stresses, and let the body and mind unite and relax.
Kristin wants to thank her husband Joseph and son Josiah for their unconditional love and support.
There is no end to a yoga journey, just a beginning.
Thanksgiving Flow. This class is free, we simply ask you to make a cash donation for the Random Acts of Kindness Fund.
Every year around the holidays we raise money to use to go around our community and spread love and joy. In years passed we used the money to bring the police and fire fighters food, paid for random people's layaway, Pay for random people's groceries, we hosted a BINGO night at Seabury heights elderly home, paid for people to do their laundry at the laundromat, Passed out gift cards at Target and Walmart, Paid for people's gas, paid for people's coffee, donated to the Veteran's Shelter on Grove Street, donated to the mustard seed, donated to other charities to make sure every child gets a Holiday experience, and so much more. Please help us do yoga off the yoga mat:)